Q Intimate Skincare Rejuvenating Serum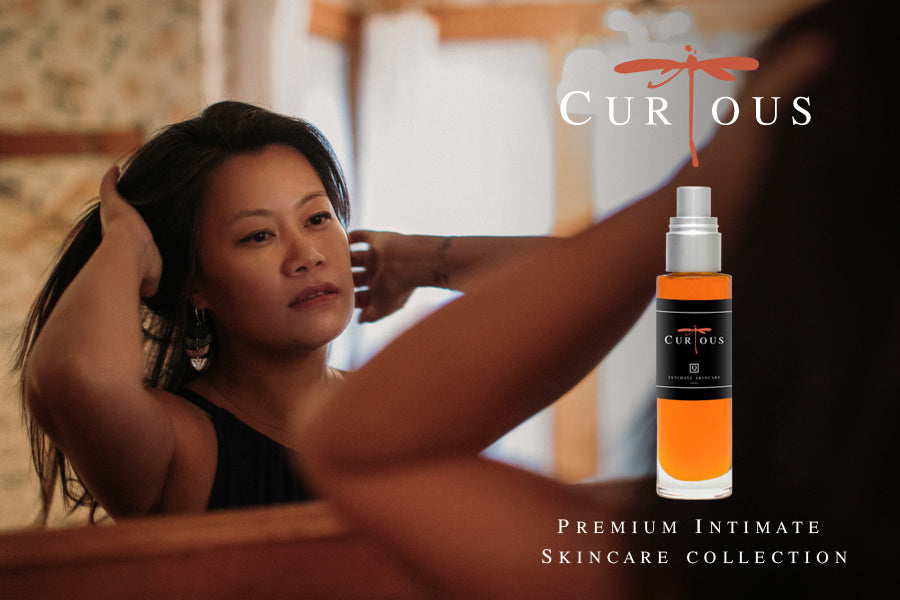 Formulated with selected fine organic oils and plant extracts that support elasticity and hydrate the skin, this highly concentrated intimate skincare is formulated to support healthy pH, cellular turnover and a balanced intimate microbiome. Well documented for use in skin rejuvenation products, our sophisticated delivery of botanicals reduce wrinkling, plump underlying skin tissue, calm inflamed tissue and make the skin more supple and less prone to chafing and irritation.
There are a range of conditions that promote the problematic changes that occur in our epithelial membranes. Changes in the vital function of these membranes resulting from the passage of time alone is called chronological aging. Many other common, chronic health conditions affect vulvar and vaginal tissue and the intimate microbiome as well.
Clinical manifestation of chronological aging include dryness, laxity, slackness and wrinkling. There is a general atrophy of the extracellular matrix, which results in a decrease in the number of fibroblasts and reduced levels of collagen and elastin, with a corresponding impairment of function. These changes are in part the result of free radical damage from the continuous formation of reactive oxygen species (ROS) generated during oxidative cell metabolism. There is a causal relationship between mitochondrial oxidative damage, cellular senescence, and aging.
With the decline in estrogen production that accompanies perimenopause and menopause, the mucosal external tissues of the labia loose elasticity and become dry, resulting in chaffing and pain during intercourse and oral sex. Many women experience irritation to the extent that simply performing daily activities is uncomfortable and even painful.
We offer a solution.
Please enjoy reading about our ingredients. It serves as a brief tutorial in intimate skin health. 
Ingredients:
All ingredients are GMO free; and free of irradiation, ethoxylation, sulphonation, and chemical extraction. We use certified organic ingredients when they exist; when not, we use certified therapeutic grade materials. Vegan. Gluten-free. Not tested on animals. 100 percent plant sourced. All ingredients are natural and naturally processed.
Rosehip (Rosa rubiginosa) seed oil
The seed oil, extracted from the hip of the flower, provides significant moisture and elasticity promoting essential fatty acids. Rosehip seed oil is packed full of essential fatty acids (EFAs), including anti-inflammatory Omega 9 fatty acid and barrier-function supporting Omega 6 fatty acid.   
Since so much of our aging process is the result of a biochemical cascade of deficiencies of function and metabolic performance driven by oxidative damage, antioxidant capacity is the hallmark of a regenerative compound. Rosehip seed oil is a rich source of cellular nutrient antioxidant Vitamins C and E, and phytocompounds B-carotene and lycopene, both of which contribute to the rich red-orange color that is an indication of the quality of the oil.
Scientific study gives support for the traditional use of rosehip seed oil in the treatment of lesions and ulcerations, for post-surgical wound recovery and for scar reduction.
Most notably, rosehip seed oil an excellent source of all trans-retinoic acid (ATRA)- a natural form of vitamin A found in rosehip seed oil which promotes healthy skin cell rejuvenation. Proper sourcing of the highest grade of rosehip seed oil is critical, since ATRA quantities are highly variable. We use exclusively well-sourced certified organic, cold pressed oil, which boasts 700% higher ATRA than commonly available rosehip seed oil. 
Pomegranate (Punica granatum) seed oil
Pomegranate oil contains 70 percent punicic acid, a valuable Omega 5 fatty acid that reduces inflammation and aids in cellular repair. Pomegranate seed oil is the only natural source of this highly beneficial fatty acid.
It's high in antioxidants--- higher than red wine, and similar to that of green tea---and notably promotes collagen and elastin production. Our pomegranate oil is quite remarkable in that it is a potent keratinocyte proliferation stimulator specific to the epidermis. This means that pomegranate oil notably improves elasticity and increases cellular turnover. So, old skin sloughs off more quickly, increasing tissue integrity and providing a growth medium for the all-important friendly bacteria.  
The fact that pomegranate oil assists the body in maintaining pH integrity is a very important feature of our formula, in that vaginal pH is the result of a diverse and balanced ecosystem in the vaginal vault. It's a complex and elegant system, involving crucial cellular turnover that is supported with pomegranate oil, which leads to a desirable lactobacilli population, and lactic acid production as a metabolic by-product. The lactobacilli and the lactic acid it produces are the foundation of a healthy vagina.
Evening Primrose (Oenothera biennis) seed oil
Vaginal eczema and other common vulvar skin conditions cause itching, dryness, and red, inflamed tissue from time to time in most women. For other women, these conditions are chronic and relentless. Human trials have demonstrated the effective use of evening primrose oil in the topical treatment of eczema, inflammation, xerosis (dryness), and scaling.
Evening primrose oil is additionally high in antioxidant phenolics, most specifically the antioxidant powerhouse catechin- which is one of the key sources of the therapeutic benefits of green tea.   In one study, Evening primrose scavenged 44-91% of oxidants (depending on concentration) as compared to 7% in controls.
Both Evening primrose and Borage oils are high in gamma linoleic acid (GLA). Controlled studies have evaluated the effects of GLA on the epithelium, and data suggests that it supports capillary function and barrier function. 
Borage (Borago officinalis) seed oil
A meaningful source of GLA (gamma linoleic acid), Borage – also called Starflower- contains approximately 23% of this natural anti-inflammatory compound.  GLA is a type of polyunsaturated fatty acid (PUFA) that is known to have a positive effect on inflammation and overall cellular health, and supports anti-aging mechanisms.
Borage oil has standing as a highly regarded traditional topical in the treatment of inflammatory skin conditions, like eczema or psoriasis. It also has a history of use going back to our earliest recorded uses of plant medicine, with considerable focus on the plant as a women's herb, used to relieve PMS, hot flashes and dry vaginal tissues.  
Sea Buckthorn (Hippophae rhamnoides) oil
Unusually rich in the essential fatty acid Omega 7- also called palmitoleic oil- Sea buckthorn oil keeps the body's mucous membranes hydrated.  It's also a potent source of Vitamins A, C and D, beta carotene and a range of flavonoids. According to Wang and Erkkola, in topical application sea buckthorn oils and preparations containing sea buckthorn oil improve the health of the mucous membranes of the urogenital tract. In topical treatment of patients with cervicitis, sea buckthorn oil and a suppository containing sea buckthorn oil were reported to be effective. Wang treated 30 patients suffering from partial erosion of the cervix with topical sea buckthorn oil, once per day. All 30 cases were cured after three months of treatment.  In the former USSR, over 190 bio-active substances were identified in sea buckthorn, and one of the approved medical products is a treatment for cervical erosion.
Elderberry (Sambucus Canadensis) extract
In support of a balanced eco-system, elderberry extract is specific solution against overabundant yeast (Candida albicans), and E. coli, which are pathogenic bacteria that live in the colon, responsible for the vast majority of urinary tract infections. We don't use a broad-spectrum anti-microbial - an abominably bad idea!- but offer an assist to the vaginal microbiome balancing process by addressing the common issue of excess of these two problem-causing microbes.
Of crucial function in this formula, the concentrated undecylenic acid in our extract helps to reduce the fungal and bacterial organisms that are problematic for women in terms of both general vaginal health and sexual health. Elderberry also helps against biofilms associated with Candida albicans (yeast.) Additional research also indicates its protective action against Herpes Simplex Virus.
Olive (Olea europaea) squalane, therapeutic grade
Squalene is one of the most common lipids produced by human skin cells and is a component of human sebum. In terms of sensorial attributes, squalane is as soft and silky and restorative as one may find. Historically, it was extracted from shark liver and highly prized first in Japan and Asia, and then in luxury skin care for the elite in Europe. It is lauded for both its sensual feel and its attributes as a wound healer and regenerative medicine. Fortunately, it is now recognized that squalane may be extracted from plant sources as well, and ours is derived from olive oil. In addition to its moisturizing properties and remarkable silkiness, squalane is also used in treating skin disorders such as seborrheia, dermatitis, acne, psoriasis, and atopic dermatitis.
Our Yogurt, Bilberry, Cranberry and Blueberry extracts are carried in non-nano, certified organic phospholipids.
The intrinsic nature of the phospholipid themselves is also highly functional in this formula. Phospholipids form the membrane that compose the outer layer of all cells in the human body.
Phospholipids have a hydrophobic and hydrophilic end, and the hydrophilic portions of the phospholipids naturally migrate to hydrophilic environments where they assemble into a multivesicular system. The moisture in our skin causes these vesicles to swell, minimizing the appearance of wrinkles and resulting in visible plumping of the underlying tissue. Because the vesicles bind with the moisture present, they inhibit trans-epidermal water loss, thereby increasing moisturization. The phospholipid liposomes also significantly increase the delivery of the active extracts through the mucous membranes.
Yogurt extract phospholipids
The proteins present in our yogurt extract are deeply moisturizing and are a natural source of bioavailable nutrients- including B vitamins, magnesium, potassium and calcium.
Bilberry (Vaccinium myrtillus L.) extract phospholipids
The anthocyanins in bilberry extract are notable anti-oxidants and worthy phyto-compound support in any topical anti-aging formula. Of particular interest is recent study showing the increased anti-carcinogenic effect of phospholipid encapsulations.
Cranberry (Vaccinium macrocarpon) extract phospholipids
The value of non-nutritive phyto-compounds in plants with traditional use as medicine is increasingly explored in contemporary research. The particularly potency of cranberries is a subject of investigation by scientists and functional medicine practitioners, and long recognized by herbalists.
The high content of antioxidant phenolic compounds support the natural antioxidant defense system of the body in the prevention of damage caused by oxidative stress, which is associated with cancer. Cranberry also has known antibacterial activity resulting from the presence of proanthocyanidins with documented anti-adherence properties. The best-established medical applications of cranberry fruits are prevention and treatment of bacterial infections of the urinary tract (UTI), infections of gastric mucosa, and infections of the oral cavity.
Blueberry (Vaccinium spp.) extract phospholipids
Like it's wilder relative the bilberry, blueberries contain anthocyanins that are widely recognized for antioxidant value, despite low bioavailability. One study has shown potent intracellular antioxidant activity at very low concentrations, helping to explain the efficacy of these berry extracts.  We enhance the bioavailability of our berry extracts via phospholipid encapsulation, furthering the beneficial impact of these anti-carcinogenic anthocyanins.  
Green Tea (Camellia sinensis) extract
Green Tea is exceptionally high in antioxidant polyphenols that scavenge free radicals that otherwise increase the risk of many cancers, including cervical cancer, and accelerates the aging processes. Green Tea extract plays a valued role in this formula, given that studies indicate its use in the treatment of cervical dysplasia when applied topically.  Research supports the use of topical green tea for its antioxidant, chemoprotective and immunomodulatory action.
Gotu Kola (Centella asiatica) extract
Gotu Kola is an herb specifically used in the treatment of tissue disorders that are hot, red, and inflamed. Gotu Kola is effective for mucous membrane support in general, and particularly for those who struggle with dry, atrophied tissue due to autoimmune conditions, which is common. Gotu Kola has a history of traditional use as a topical treatment for vulvodynia, a painful condition quietly suffered by many women. It also has antiviral properties against herpes virus and may be used topically for this purpose. It has traditional use in formulas increasing sexual capacity and desire. Research indicates that topical application of Gotu Kola also improves skin hydration and epidermal barrier function, and has anti-inflammatory and free radical scavenging properties.
CoQ10 (Ubiquinone)
As adeptly described by one study, CoQ10 is "an endogenously synthesized lipid‐soluble antioxidant which is crucial for cellular energy production but is diminished with age and under the influence of external stress factors in human skin." This study shows that topically applied ubiquinone is beneficial with regard to "replenishment, augmentation of cellular energy metabolism, and antioxidant effects." There's a significant body of research supporting the restorative effects of topically applied CoQ10 on skin in anti-aging treatments, indicating that it works by promoting mitochondrial function and increasing cellular energy, and providing a substantial reduction of DNA-damaging oxidants.
Pomegranate (Punica granatum) sterols
This ingredient contributes additional sterols to those already present in the pomegranate oil, to optimize the barrier and hydration effect. It is deeply moisturizing. According to the British Pharmacopoeia, pomegranate sterol has a remarkable hydration potential, far exceeding other known sterols, and actually increasing collagen production when applied topically.  
Helichrysum (Helichrysum italicum) EO
An impressive 600 distinct species of the revered "helios", "chrysos" – sun gold in Greek- thrive around the world. The consistent and widespread high-regard for this tissue-healing, rather common-looking plant is a testament to medicinal value of the arid, mountainside herbaceous shrub.  The essential oil is rare and expensive, with only a kilo of essential oil distilled from a ton of hand-harvested flowering tops. Much of the finest helichrysum essential oil is grown in the Mediterranean, where conditions encourage the most potent and desirable phyto-compound profiles.
Helichrysum is also known as Everlasting, and Immortelle, due to its rejuvenating effects on skin. Studies indicate antimicrobial properties, while others show it to be anti-inflammatory and anti-erythematous (reduces the redness associated with injury and inflammation.) Contemporary research continues to support the reputation of helichrysum as an exceptional oil for wound repair and restoration.  
Carrot (Daucus carota) seed EO
Traditionally used topically in a minute amount in the treatment of low-grade cystitis, for chronic discharge.  It's history of use as a uri-genital antiseptic is supported with recent study, in which the steam-extracted essential oil showed inhibitive properties against both gram-positive and gram-negative bacteria.  Carrot seed essential oil is specific against Acinetobacter spp., one of the three most common causative agents responsible for nosocomial infectious mortality in neonatal intensive care units.
Geranium (Pelargonium graveolens) EO
At very minimal concentration, geranium exhibits significant activity in reducing the presence and quantity of Candida albicans. One of it's mechanisms of action is in decreasing the ability of Candida yeast to adhere to the surface cells of the epithelium. The anti-candida action of geranium essential oil constituents are well-established in many different studies that simultaneously illustrate non-toxicity to cells at the concentrations used to treat Candida. 
Directions:
Pump into palm of hand and apply with fingertips, as needed. One or two pumps is just right for intimate rejuvenation.
Curious Intimacy, healthy vagina, intimate microbiome, intimate skincare, menopause, organic oils, organic skincare, sexual wellness, skin rejuvenation, Urinary tract Infection, vagina, vaginal atrophy, vaginal biome, vaginal dryness, vaginal health, vaginal microbiome, Vaginal rejuvenation, vaginitis